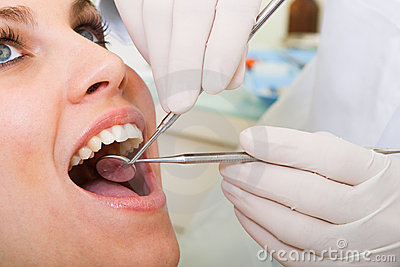 Basic Dental Health
FILLINGS
Fillings are done to remove decay, and replace the affected tooth structure. It is called a filling because a new material fills hole that decay left. Now days most teeth are treated with bonded tooth colored composite resin fillings. Caught early enough, cavities can be treated easily and painlessly. If not treated decay can lead to tooth pain and/or infection, and the tooth would need root canal treatment or extraction.
PREVENTIVE CARE
Preventive dentistry as the best possible means of maintaining optimum oral health. Preventive dental care can help each member of your family maintain a beautiful, healthy smile by safeguarding against oral diseases, like dental decay, gum disease, or periodontal disease. Our goal is to prevent these diseases from happening in the first place or to catch the problems in their early stages when they are easier and less expensive to treat.
Our approach to preventive dental care includes routine gentle dental cleanings and checkups as well as education and advice that can help every member of your family practice good oral hygiene at home.
We recommend routine preventive dental care visits two times a year. Each routine visit includes a comprehensive cleaning and oral examination. We will screen for decay, gum disease, periodontal disease, oral cancer, TMJ, and problems with your bite. To enhance your smile, we can also address any concerns you may have.
PEDIATRIC DENTAL CARE
We strongly feel that pediatric dental care is essential for giving children the proper foundation for a healthy life, from childhood through adolescence and beyond.
Children begin to get their baby teeth during the first 6 months of life. By age 6 or 7 years, they start to lose their first set of teeth, which eventually are replaced by secondary, permanent teeth. Without proper dental care, children face possible oral decay and disease that can cause a lifetime of pain and complications. Today, early childhood dental caries—an infectious disease—is 5 times more common in children than asthma and 7 times more common than hay fever.
SEALANTS
This is used to fill in narrow grooves in a tooth that cannot be adequately cleaned by brushing. In some cases, the tooth structure has fine grooves or pits which accumulate plaque, not because the person doesn't brush, but because they're too narrow to allow even one bristle into them. These will develop cavities over time, and you don't want that. So the dentist will brush on a coating that seals the grooves and pits, making it possible to brush off all the plaque and keep your teeth healthy.
NON-SURGICAL PERIODONTAL TREATMENTS
The gums, ligaments, and bone around the teeth form the foundation for ones teeth. All structures are also referred to as the periodontium. When the periodontium is not healthy, it jeopardizes the teeth just as a bad foundation would threaten the stability of a house. Signs of unhealthy periodontium (gum disease) may be as follows: gums that are red and bleed easily, persistent bad breath, gums that are pulled away from the tooth, loose teeth, and changes in the position or bite of the teeth. Any of these signs may mean something is wrong. With the proper care, however, it may be possible to return them to a healthy state. This is where appropriate gum treatments come in. If you're having a problem, come in and see us so we can take care of it right away. The treatment usually involves a deep cleaning or root planing done under a local anesthetic, along with local antibiotic agents. If the gum disease gets too severe it may need to be treated through surgery or extraction. This is why it is important to get it treated at the first sign of a problem.
ROOT CANAL TREATMENT
To understand a root canal procedure, it helps to know about the anatomy of the tooth. Inside the tooth, under the white enamel and a hard layer called the dentin, is a soft tissue called the pulp. The pulp contains blood vessels, nerves and connective tissue, and helps to grow the root of your tooth during development. In a fully developed tooth, the tooth can survive without the pulp because the tooth continues to be nourished by the tissues surrounding it.

Endodontic treatment treats the inside of the tooth. Endodontic treatment is necessary when the pulp becomes inflamed or infected. The inflammation or infection can have a variety of causes: deep decay, repeated dental procedures on the tooth, faulty crowns, or a crack or chip in the tooth. In addition, trauma to a tooth may cause pulp damage even if the tooth has no visible chips or cracks. If pulp inflammation or infection is left untreated, it can cause pain or lead to an abscess.
CROWN AND BRIDGE WORK
Both crowns and most bridges are fixed prosthetic devices. Unlike removable devices such as dentures, which you can take out and clean daily, crowns and bridges are cemented onto existing teeth or implants, and can only be removed by a dentist.
A crown is used to entirely cover or "cap" a damaged tooth. Besides strengthening a damaged tooth, a crown can be used to improve its appearance, shape or alignment. A crown can also be placed on top of an implant to provide a tooth-like shape and structure for function. Porcelain or ceramic crowns can be matched to the color of your natural teeth. Other materials include gold and metal alloys, acrylic and ceramic. These alloys are generally stronger than porcelain and may be recommended for back teeth. Porcelain bonded to a metal shell is often used because it is both strong and attractive.
Your dentist may recommend a crown to:
Replace a large filling when there isn't enough tooth remaining

Protect a weak tooth from fracturing

Restore a fractured tooth

Attach a bridge

Cover a dental implant

Cover a discolored or poorly shaped tooth

Cover a tooth that has had root canal treatment
A bridge may be recommended if you're missing one or more teeth. Gaps left by missing teeth eventually cause the remaining teeth to rotate or shift into the empty spaces, resulting in a bad bite. The imbalance caused by missing teeth can also lead to gum disease and temporomandibular joint (TMJ) disorders.
Bridges are commonly used to replace one or more missing teeth. They span the space where the teeth are missing. Bridges are cemented to the natural teeth or implants surrounding the empty space. These teeth, called abutments, serve as anchors for the bridge. A replacement tooth, called a pontic, is attached to the crowns that cover the abutments. As with crowns, you have a choice of materials for bridges. Your dentist can help you decide which to use, based on the location of the missing tooth (or teeth), its function, aesthetic considerations and cost. Porcelain or ceramic bridges can be matched to the color of your natural teeth.
Before either a crown or a bridge can be made, the tooth (or teeth) must be reduced in size so that the crown or bridge will fit over it properly. After reducing the tooth/teeth, your dentist will take an impression to provide an exact mold for the crown or bridge. If porcelain is to be used, your dentist will determine the correct shade for the crown or bridge to match the color of your existing teeth.
Using this impression, a dental lab then makes your crown or bridge, in the material your dentist specifies. A temporary crown or bridge will be put in place to cover the prepared tooth while the permanent crown or bridge is being made. When the permanent crown or bridge is ready, the temporary crown or bridge is removed, and the new crown or bridge is cemented over your prepared tooth or teeth.
While crowns and bridges can last a lifetime, they do sometimes come loose or fall out. The most important step you can take to ensure the longevity of your crown or bridge is to practice good oral hygiene. A bridge can lose its support if the teeth or bone holding it in place are damaged by dental disease. Keep your gums and teeth healthy by Brushing with fluoride toothpaste twice a day and flossing daily. Also see your dentist and hygienist regularly for checkups and professional cleanings.
To prevent damage to your new crown or bridge, avoid chewing hard foods, ice or other hard objects.
EXTRACTIONS

An extraction means to have a tooth removed, usually because of disease, trauma or crowding.
If you need an extraction, your dentist will first numb the area to lessen any discomfort. After the extraction, your dentist will advise you of what post extraction regimen to follow. In most cases a small amount of bleeding is normal. Your mouth will slowly fill in the bone where the tooth root was through the formation of a blood clot.
Remember, when having an extraction, today's modern procedures and follow up care (as recommended by your dentist) are there for your benefit and comfort.
REMOVABLE COMPLETE AND PARTIAL DENTURES
Removable partial dentures usually consist of replacement teeth attached to pink or gum-colored plastic bases. Depending on your needs, your dentist will design a partial denture for you. A partial denture may have a metal framework and clasps that connect to your teeth, or they can have other connectors that are more natural looking. In some cases, a removable partial denture is made to attach to your natural teeth with devices called precision attachments. Precision attachments are generally more esthetic than clasps.
Dentures are removable appliances that can replace missing teeth and help restore your smile. If you've lost all of your natural teeth, whether from gum disease, tooth decay or injury, replacing missing teeth will benefit your appearance and your health. That's because dentures make it easier to eat and speak better than you could without teeth—things that people often take for granted.
When you lose all of your teeth, facial muscles can sag, making you look older. Dentures can help fill out the appearance of your face and profile. They can be made to closely resemble your natural teeth so that your appearance does not change much. Dentures may even improve the look of your smile.
If you have any questions about your dentures, or if they stop fitting well or become damaged, contact your dentist. Be sure to schedule regular dental checkups, too. The dentist will examine your mouth to see if your dentures continue to fit properly.
X-RAYS
This is a focused beam of X-Ray particles through bone which produces an image on special film, showing the structure through which it passed. This gives the familiar black and white images that doctors and dentists use to diagnose problems. X-rays are a necessary part of the diagnostic process, and not to use them could lead to undiagnosed disease. Without an X-ray of the whole tooth, and supporting bone and gum tissues, there is no real way to detect infection or pathology that requires attention.
In our office we use digital radiography which allows us to take X-rays using 50-70% less radiation versus conventional X-rays. Coupled with computer monitorying, digital x-ray technology allows us to enhance the images for better diagnosis of any dental concerns.
105 S Walnut St
DEMOPOLIS , AL 36732
Phone (334) 289-0183
Fax (334) 289-0152